About Diliberto Plumbing
Voted Best of Montco since 2005
Residents of Chester and Montgomery Counties have voted for Diliberto Plumbing every year since 2005! 
We are proud to share that our customers have voted us the best plumbers for almost a decade!
Our Mission Statement
At Charles Diliberto Plumbing & Heating, Inc., we promise to serve our customers professionally and efficiently, while treating them as we would want to be treated. We will provide the greatest value possible, by offering the best service and uncompromising quality…every time. Let us show you our dedication to service and our skills in repair, maintenance, and installation of plumbing and heating products and systems that makes us the best plumbing and heating company in the Tri-State area! Read on to learn more about the men and women who make Diliberto Plumbing the outstanding team it is.
Meet Our Team
Charles Diliberto Plumbing and Heating, Inc. was established in 1979 and has grown steadily over the years by adding new team members with their own honed plumbing skills. Our team now includes highly trained technicians, all trained in the latest plumbing techniques and materials. Get to know our team below.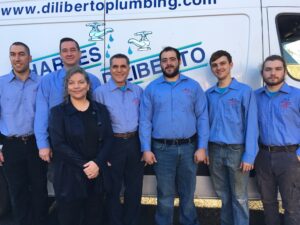 Our staff includes:
Charlie Diliberto – Master Plumber with over 40 years experience in plumbing and heating
Colin Kelly – Project Manager and Mechanic, over 20 years experience
Chris Diliberto
Timothy Cantz
Joseph Barone
Daniel Burke
Laia Drendall